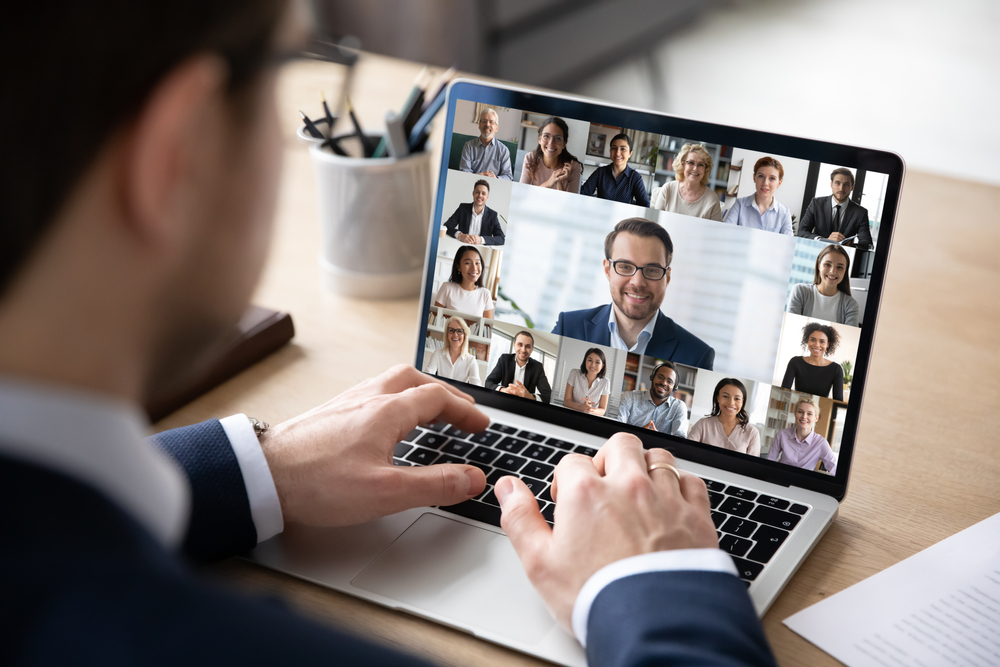 Whether driven by the need to streamline and outsource business processes, to the need for distancing and isolation caused by national crises, businesses increasingly use teleconferencing. 90% of global enterprises now use virtual meeting rooms day-to-day. Whether you're the CEO, a departmental manager, or a team member, the chances are that you must run a virtual meeting at some point. The following 12 tips will make sure your virtual meeting goes smoothly.
1. Prepare in Advance
Forward planning is important to any successful meeting. If you're conducting a meeting online, it's vital. While you may call a meeting at short notice, make sure you have plenty of time to organize, plan, send out instructions, draw up an agenda, and check the list of attendees at least a few hours, and ideally longer, before the scheduled start.
2. Think About Time Zones
When you're working internationally or just across states in the US, you must think about what time zone everyone is working in. If you schedule an early morning meeting, think about how early that may be for other members of the team. Likewise, avoid making a team member set their alarm for 3 am unless it's unavoidable! Aim to take everyone's needs into account and choose the best compromise time-wise.
3. Instruct Participants How to Use the Technology
One of the most frustrating experiences for anyone attending a remote meeting is waiting for everyone else to get online and into the virtual meeting room. To avoid time-wasting, make sure you invite all attendees to join the meeting at least five minutes early. You must also send clear, step-by-step instructions on how to download the software, register to the meeting, and access the virtual space well before the meeting itself.
4. Troubleshoot the Technology Before the Meeting
Another reason to get everyone online and into the space early is to make sure that the technology works well, everyone is connected, visible, audible, and familiarized with procedures and protocol. It may seem obvious, but it's easy to overlook the basics. Never assume that everyone in the team is up-to-speed with the technology or that there won't be any "glitches" to resolve before the meeting can go ahead.
5. Organize the Agenda
When you can't see and hear everyone in the meeting space simultaneously, it's important to get the agenda organized and distributed to attendees in advance. If you need to set the agenda as a group, then schedule that time into the meeting and make it clear to everyone that will be the first step. Make sure that the agenda is visible to everyone in the meeting, either by sharing it via an app or writing it up on a virtual whiteboard.
6. Stay Present and Remember to Listen
Once you've prepared the technology, the agenda, and the attendees, you can start the meeting. While your focus may be to inform, teach, or feedback to the team, one of the vital aspects to running a smooth online meeting that's often overlooked, is to listen. Factor listening breaks into the session, making sure that everyone knows how and when they can contribute, ask for clarification, or raise concerns.
7. Actively Manage the Audio-Visual Aspects of Discussion
Whether you're using less-than-ideal applications or purpose-built, enterprise level technology, active management of the audio-visuals is important so that the meeting runs well for everyone concerned. Check that everyone can be seen and heard when needed. It also means making sure that there's a system in place to avoid people talking over each other. You may also need to account for a time delay, depending on a team member's location and the quality of their internet connection.
8. Get People to Join In
Even a dynamic and interactive team can become less participatory when the meeting is virtual rather than face-to-face. But participation is key to effective collaboration. Again, this comes down to excellent planning and thinking ahead. Make sure there's a clear protocol for feedback and that you invite each member to take part. Running an open chat box during the meeting so that thoughts and ideas don't get lost can be helpful. It's also useful to delegate a participant to manage the chat.
9. Concentration and Focus
It's a temptation for anyone involved in a virtual meeting to multitask, with the computer keyboard at their fingertips. But, if you want to keep people focused and concentrated on the meeting's agenda, you need to make it clear at the outset that you expect everyone to stop whatever else they're doing and give their full attention to the meeting while it's in progress. It's important not only to keep focus and concentration, but also to make sure everyone's invested in the meeting, and to encourage active collaboration.
10. Post-Meeting Analysis
A good virtual meeting doesn't stop when it ends. To run a meeting like a boss, you must build in time for post-meeting analysis. This serves several important purposes. It makes sure that everyone has understood what took place and has a clear grasp of outcomes and next steps. It also gives you an opportunity to assess how well the meeting went and where you might make improvements next time.
11. Encourage Feedback
Even if you're an old hand at running virtual meetings, take nothing for granted. Always ask for feedback, either at the end of the meeting or via messaging or email, when people have had time to reflect. If the feedback isn't immediate, make sure you give a deadline for feedback. Encouraging feedback helps you to assess your strengths and weakness and gives participants a sense of their opinions being valued.
12. Don't Keep it to Yourself
Once you feel comfortable running online meetings and you've developed a workable and successful system, it's a good idea to pay your experience forward. If you've developed a functional protocol, you could publish that to others within your company who may find it useful. Consider also running a training session for members of your team or anyone who may have to be deputized in your absence.
Virtual meetings are fast becoming the norm. Whether they make up an integral part of your business processes or you use them only in exceptional circumstances, knowing how to run them is a powerful skill. Finally, the responsibility for any meeting always falls on the shoulders of the organizer. With forward planning and active management, you'll soon harness a reputation as someone who can run a virtual meeting like a boss.