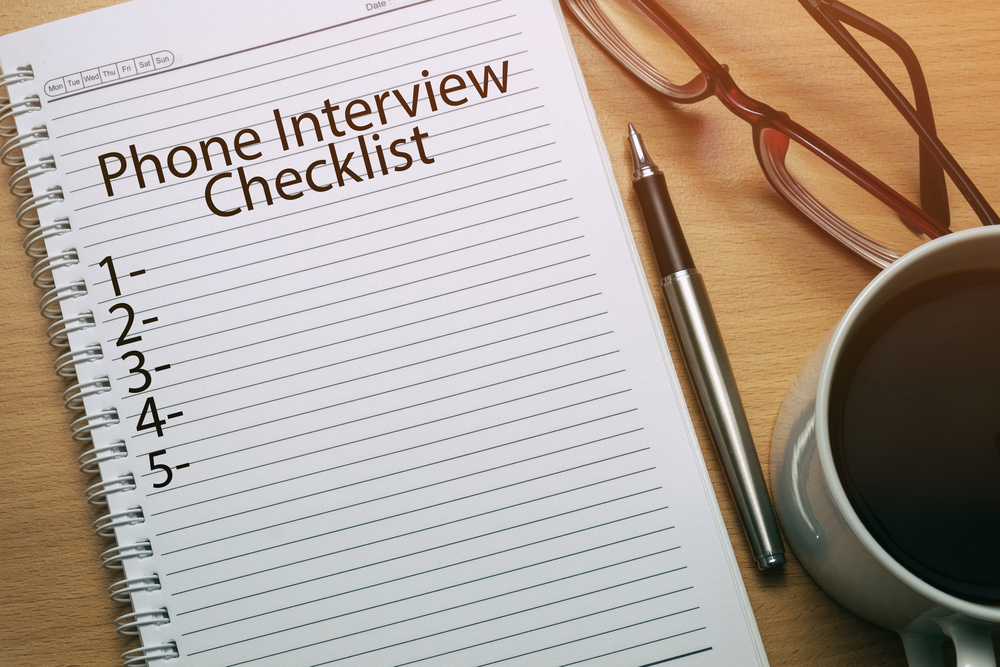 When you begin a job search, you often need to juggle applications to a number of jobs at the same time, and manage different phone interviews. It can be hard to keep all the information related to these applications and interviews straight.
It's important to not allow your phone interviews to take you by surprise. While they may seem like minor challenges when compared to the in-person interviews that come later in the job application process, you still need to excel at them in order to get to the later rounds. Just as you need to customize your resume to each job that you apply to, you need to tailor your answers to every phone interview that you attempt. Unfortunately coming up with targeted answers on a phone call can be difficult, especially when you're nervous about doing well.
You have the advantage with phone interviews, however, in that you don't have the interviewer in front of you. This means that you can use notes, or a cheat sheet, for help along the way.
Certainly, you don't want to be reading off a script when you answer questions over the phone; your interviewer will be able to tell when your answers sound unnatural and you don't make a connection with them. You can, however, use your interview cheat sheet to help make sure that you don't forget important points that you need to make. Before each phone interview, it would be a good idea to fill out a cheat sheet with tips in the following areas.
When You Can Start
Preliminary phone interviews often include a question about when you believe you might be able to start work at the new position. Companies sometimes need to fill roles as quickly as possible, and at other times they simply prefer to know where they stand with a candidate. You can think ahead of time about how much notice you need to give your current employer, and write it down so that you are ready when the question comes up in the phone call.
Questions About Who You Are
One of the first things that an interviewer will do on a phone interview, after making sure that it's a good time to talk, is to ask you to say something about yourself. It's important to understand that while it may sound like they want to hear your life story, in reality they only want to hear about the parts that are relevant to the job in question. When you answer, you need to be sure that whatever you say, you are able to stick to your story for the rest of the interview process. Whatever reasons you offer for why you're right for the job, for instance, you should remember as the interview process progresses.
It's usually a good idea to include information about your past, your present, and your future. You'll need to offer a brief introduction to parts of your past experience that are relevant to the position that you're applying to now, a quick look at your current job -- again, with a look at the parts that relate to the job you're applying to -- and a discussion of what you plan for the future, with information about how the new job has all the right qualities for that future.
You should write these down in your cheat sheet in the form of short points and phrases. This way, you can quickly consult them in the middle of the phone interview, and expand on them. You should also be prepared for follow-up questions about how you like to be managed, and what kind of work environment you tend to prefer.
Your Most Relevant Skills and Accomplishments
To address questions about your skills, you need to closely study the job description, find out what they ask for, jot them down, and match them to skills and accomplishments that you can point to. It can take time to think of things you've done in the past, including highlights and important numbers that illustrate well your suitability for the job. You need to use the time that you have to think of those examples, so that you are able to list them quickly during the phone interview.
Important Stories from Your Past
Most phone interviews come with a few behavioral questions. The interviewer may ask you for an example of a time when you were able to demonstrate leadership skills at work, or a time that you made a mistake. While you can't be sure exactly what you will be asked, you can head in with a few well-rehearsed stories that are likely to be a good fit for a number of different situations. In general, it can help to think of a time when you overcame a problem, when you worked on a task that was new and challenging, and when you made a mistake but learned from it. When you put summaries of these stories on your cheat sheet, you should give them descriptive titles that help you remember at a glance what the stories are about.
Why the New Position Excites You
At some point through the phone interview, you'll probably get a question about why you want the job. It can help to think ahead of time about what it is about the new position that your current job doesn't give you. You may be enthusiastic about the industry that the company is in, for example, or the way it allows you to focus on customer interaction. Focusing on real reasons why the new job is a better fit for you than the current one can help you express in a positive way why you wish to make the transition. It can help to check out information about the company on the internet, and find out what makes it special. Those qualities are ones that you can mention when you talk about why the job excites you.
What Kind of Pay You Look Forward To
Talking about money can be awkward. If you're asked about what your salary requirements are, you need to have done your homework and found out what kind of pay is on offer for similar positions in the city that the company is in. If you head in without having done your homework, you will have no better choice than to make a guess, which may or may not be right.
Do You Have Questions?
You may ask many questions about any new position that you try for - questions about the typical day at work, the challenges that you're likely to face, the training available and so on. It can help to write down a few of the most important questions that you can think of. If you can demonstrate that you put in research, it could be even better. You could, for example, look up industry reports or other news for ideas on questions to ask to do with the position. You could then write down those ideas and questions on your cheat sheet.
A good deal of the information that you put down on a cheat sheet for a phone interview tends to be specific to each role. For this reason, you'll need to create a dedicated cheat sheet for each job that you interview for. The homework that you put in will help you organize your thoughts, get excited about the opportunity, and allow you to project yourself as a great fit for the position. The preparation that you put in can help you get to the next round