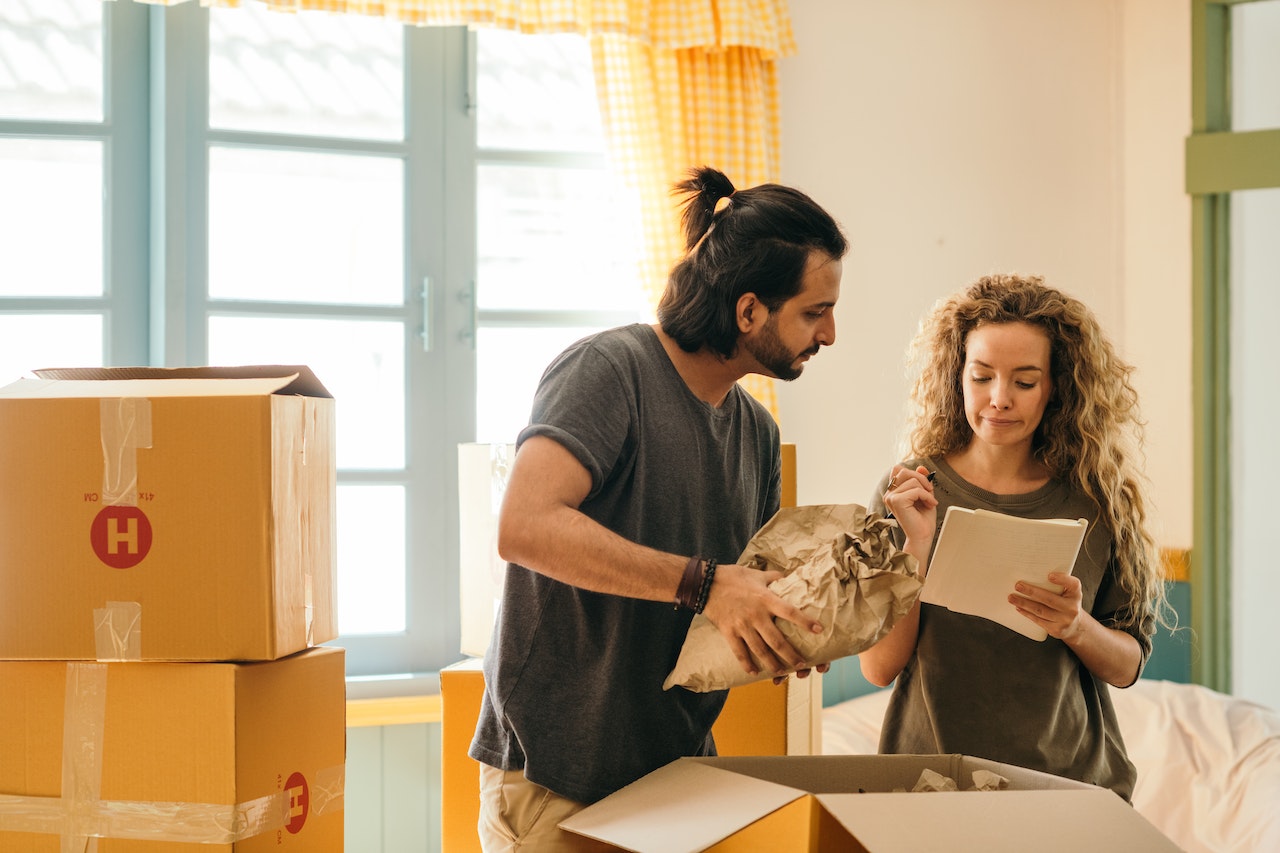 Photo by Ketut Subiyanto from Pexels
A checklist to help you move for your career with as little stress as possible.
If you've recently been promoted or are moving for better opportunities, congratulations. This is an exciting time, and one full of new adventures. But, that does not mean that there are no potential bumps and hurdles to overcome, especially if you're moving across the country or with your family. Here are a few great tips on how to be the master of your move.
Start planning way before you think you need to
Moving your home, family, and job is a massive undertaking. It takes time to plan and prepare. If possible, start the process as early as possible. If you know six months to one year in advance, start purging your house for things that you don't want to pay to move. Importantly, don't wait until the last minute to book your movers. UPack recommends scheduling your movers anywhere from
two months to 12 weeks
ahead of time. This will help you lock in your date and time as well as current pricing.
Decide where you live
Another step you can take early is to decide where you want to live. Even if you have a general idea of where you're being moved, there are likely plenty of neighborhoods and communities within a similar commute time. You might find, for example, that one town has better schools or a more expansive park system while another neighborhood a few exits down might be more family-friendly and walkable -
Walk Score
is an excellent tool to help you determine the walkability of your new neighborhood.
You'll also want to take the time to review the
home-buying process
and the health of the real estate market in your area. You may find that homes go under contract faster in one ZIP Code than another, and being up to date with the market can help you move faster when time matters.
Consider the future job market
You may love your current career, but things change. While you should absolutely go into your move and new job with optimism, look ahead at the job market to give yourself peace of mind that there are opportunities within your industry should you decide that another change is due.
Research schools
School districts vary in quality, even within the same county. If you're moving with children, remember to confirm school zones if you have a particular system in mind. As you're researching school zones, look for academic systems that have shown strides in bridging gaps between educational opportunities and underserved students. These schools tend to be most
involved with the community
, and this can have a huge impact on a child's quality of life.
Understand the cost
You know that there are costs associated with the moving process. Obviously, there are moving fees, utility transfers, and transportation for yourself and your family. However, there are dozens of potential hidden costs that you may not consider.
Utility deposits
are one example. If your credit score isn't at its best, you may wind up getting hit with deposits of up to $400 just to turn on the water or electricity. You may also be out your security deposit if you're moving from a rental and inadvertently damaged the property during the move. Packing supplies, animal boarding, and unexpected hotel stays are all also common. This is a great opportunity to decide how much it will cost so that you can ask your new company for relocation assistance.
Another important consideration when moving to another state is the cost of living. Cost of living includes everything from housing prices to the cost of milk at the grocery store. If you're moving from a less expensive area, such as
Arkansas, Mississippi, or New Mexico
to somewhere pricier, like New Hampshire, Maine, or California, you'll experience sticker shock as soon as you arrive. Make sure that your new position can support an increased cost of living so that you do not find yourself strapped for cash in an effort to better your financial position.
Get pre-approved
If you plan to buy before you move, take the time to get pre-approved now. As we mentioned earlier, the market moves quickly in some areas, and having your finances in order now will make you a stronger buyer. Pre-approval shows the sellers that you have the ability to go through with your purchase. Before you get pre-approved, use a
mortgage estimator
to determine how much you can actually afford each month. This goes back to the cost of living, so make sure that you also research other potential expenses. An online calculator is a great resource that can help you get a narrow ballpark so that you can better plan your budget.
Find a realtor. Just as no two cities are alike, no two real estate agents are the same. Look for an agent that not only matches your personality but who is also
experienced in the area
and works in real estate full time. This is crucial if you're moving several hours away and are not familiar with your new state/city.
Let the kids make some decisions
There's no way to sugarcoat it: moving with kids is heartbreaking. This is especially true with older children who have built their own community at school and in the neighborhood. While they cannot control where they live, give your children some autonomy throughout the process. Whether it's
letting your preschooler "help"
pack up their belongings or allowing your older child a bit of leniency when they are angry, kids need to feel that they have some control over their world. Many parents find it helpful to allow their children to pick their new bedroom color or furniture and to decide on a few key items to bring with them.
Keep notes throughout the process. There are many moving pieces that go into the moving process. Make a point to
take notes online
from the moment you decide to move. This way, you can go back and look at information and keep your schedule straight.
Schedule plenty of time for the actual move
Perhaps most importantly, give yourself plenty of time for the actual move. While you may think you only need a day or two for the movers to show up and get settled, give yourself at least a week off. You will need time to get your home in order, get the kids registered for school, and restore some sense of normalcy to your world.
A new job, a new home, and a new life are all extremely exciting. But, the excitement comes at a cost, and knowing yours can help you sail through the moving process. From understanding the current market, mortgage and buying process, and the time and expenses it actually takes to move, the above tips can help you get settled in so that you can jump into your new job stress-free.